Check out our top picks of 5 free wireframe tools currently on the market and find the best choice for your unique needs.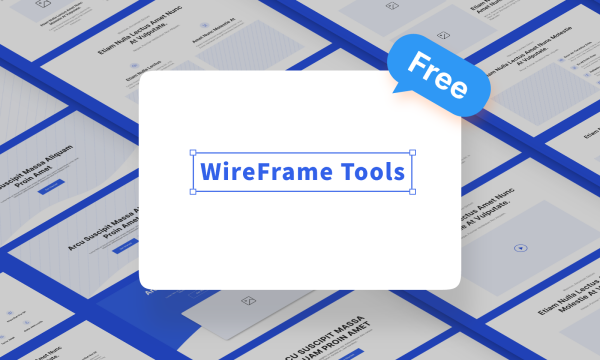 The journey from an idea to a product is a long one, but it almost always starts with some doodling on a piece of paper. Each of us has done it. The doodle might turn out to be nothing, or it might go on to disrupt an industry. But it always starts with an idea – a basic doodle. Now, when you give this doodle a professional touch – form, precision, and dimensions – it becomes a wireframe.
Designers use lines, rectangles, and other basic shapes to give a tangible form to a website, landing page, or even an app. The rudimentary wireframe serves as the foundation for the designers to visualize and add more complex elements to their design. After conducting hours of research, testing the tools, and going through third-party reviews, we have curated a list of wireframe tools for free. We cherry-picked the tools that offer a completely free solution and don't stop at a limited free trial.
Try them out.
Top 5 Wireframe Tools [Free]
1. Pixso
Since its launch in 2021, Pixso has become the gold standard among free wireframe tools. Pixso's most impressive feature is the collaborative design workflow. It prides itself on being user-friendly with support for a variety of file formats, unified design specifications, and an interactive design process.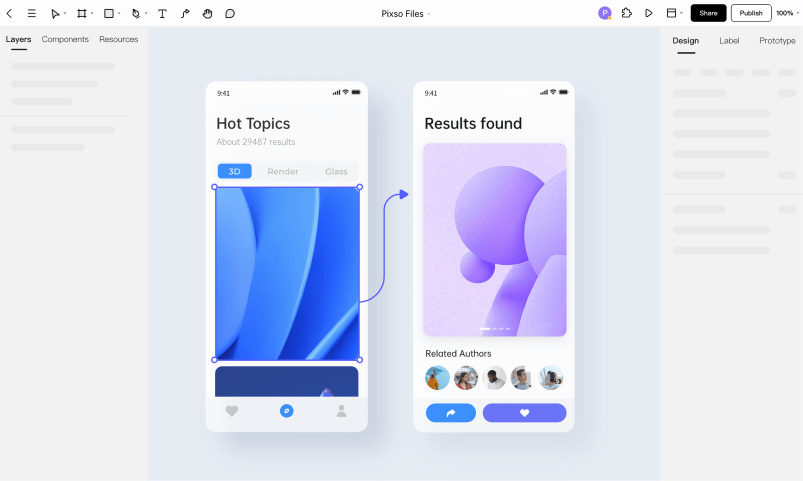 It has already won the prestigious Innovation Gold Award from MVX (Most Valuable Experience) Awards. On top of it, the tool is set to become even better with the infusion of $15 million in a fresh funding push.
Pros
Highly accessible and intuitive

All-in-one tool that supports prototyping and designing for multiple aims

Improved user experience through effective collaboration & communication

Allows unlimited files, collaborators, teams, and team programs for FREE now

Compatible with various file formats like .fig, .sketch, .xd, .zip, .svg and more

Supports 4 languages including English, Chinese, Korean and Japanese
Cons
Many new features are yet to be added
2. Justinmind
Justinmind is specifically designed for users who do not have the technical background to use a complex wireframe platform. It works on templates that can be edited using a drag-and-drop feature. It also offers UI Kits, interactive prototypes, collaborative tools, reviewer management, and more.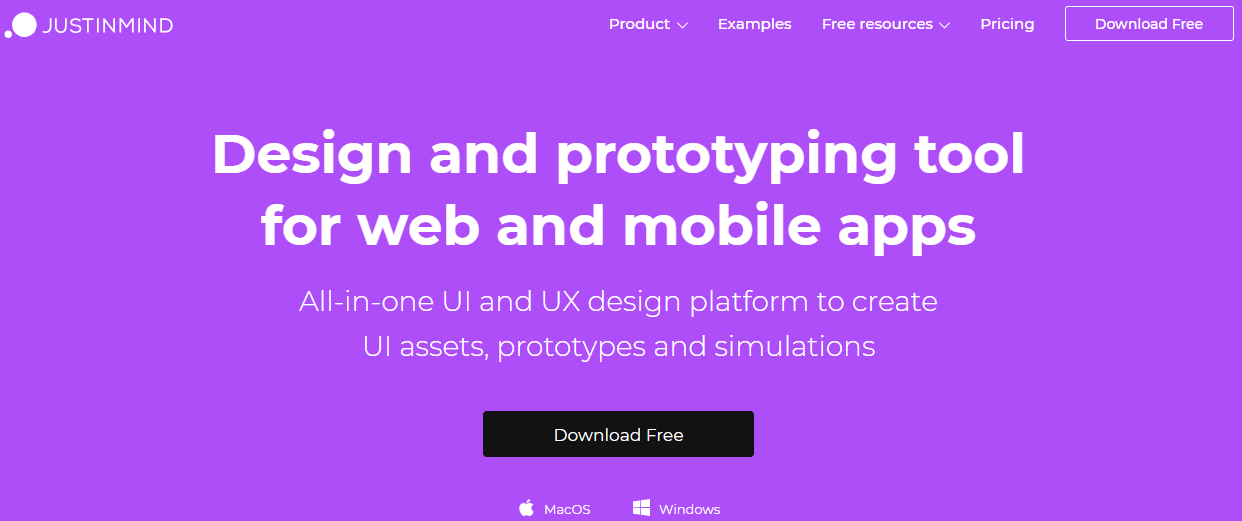 Pros
A no-code tool with a comprehensive set of tools

Quickly creates mockups for websites
Cons
Many common features are limited in the free version

Only Suitable for smaller teams and specific use cases

Lack of comprehensive guides for all features
3. Wirefy
Wirefy is one of the most revolutionary mobile-first free wireframe tools. Despite the mobile focus, Wirefy also has a web application, which offers a selection of JS & CSS files for users to swiftly test new wireframes. However, users do require a basic understanding of CSS and HTML to work with the tool.

Wirefy offers the most basic foundation styles so that the clients don't focus too much on fonts, colors, and other bells and whistles. It firmly brings back the focus on basic page designs.
Pros
Perfect for beginners looking for basic wireframe tools for quick use

Simple syntax that's effective across browsers

Layouts fit mobiles screens beautifully
Cons
Not ideal for more complex wireframes

Wireframes created are not particularly visually appealing
4. Pencil Project
Pencil Project is a popular open-source wireframe app. You can use the wireframe tool for free for life, as there's no monetization plan by the developers. It is designed for developers looking to create, share, and collaborate on mockups across desktop and mobile platforms. You can use built-in shape collections for desktop/website UI shapes, iOS GUI shapes, flowchart elements, and general-purpose shapes.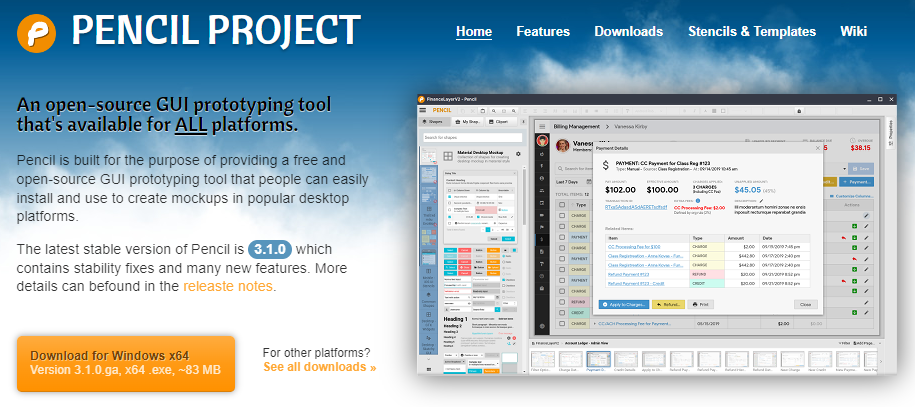 Pencil Project offers many other features, including inter-page linking, clip art browsing, diagram drawing, document export wizard, and more. The final document can be exported into PDF, PNG, SVG, ODT, and other common formats.
Pros
Supports different OSes, including Mac, Windows, and Linux

A robust set of features that aren't easily available in free tools

Well-managed content
Cons
Not a user-friendly tool due to the open-source feature

Pencil Project can be a challenge, especially for new users

Lacks a more comprehensive online shapes library

Users can not collaborate in the real time
5. Framebox
Framebox is a lightweight free wireframe tool but radically user-friendly compared to other available tools. Perhaps, the limited number of features available on Framebox make it simple and straightforward to use.

Users can directly go to their web app and start creating wireframes. There's no learning curve with this app. The drag-and-drop feature makes it easy for the users to add and remove UI elements. You can also see your revision history to keep track of your progress.
Framebox's interface is simple and intuitive, which allows developers to relay their idea well, and quickly. The tool makes it effortless for you to share your wireframes with your team and other teams, and even includes a feedback link with the shares.
Pros
Simple and easy-to-use software

Allows users to create resizable frames for different screens

Perfect for creating quick wireframe designs that can be promptly shared via link
Cons
Supports limited features

More complex wireframe design may be difficult to create

Repeated editing error can become unnecessarily time-consuming
Are Free Wireframe Tools Worth Your Time
Wireframes are a critical step in design, and you need a reliable app to build that foundation. Wireframing should help developers visualize their product and provide them with a clear idea of the outcome. The top wireframe tools for free available in the market meet those criteria. However, they do it in different capacities.
Each free wireframe tool is unique in terms of its features and user experience. It's entirely up to your team's experience, skills, workflows, and types of projects you undertake that determine what's the right free wireframe tool for you.
Pixso offers an incredible product with excellent collaborative capabilities that most of the other tools lack. And the powerful wireframing and designing features make it almost suitable for all individuals and teams. Besides, it is still in the process of adding more design features. So, it's set to become even better.
Justinmind is a tool for users with no coding abilities, which makes it a breeze to use. However, users have to tradeoff flexibility for ease with this app. It has limited features and flexibility.
Pencil Project offers a lot of design flexibility, but it is not winning any awards for user-friendliness. It is a developer's tool made for professionals who can deal with complex elements.
Wirefy takes its mobile-first approach seriously, but users may have to compromise on the spectrum of design elements that can be used to create wireframes.
At the end of the day, the best pick is the tool that fits the project and the user the best. Just choose one tool based on your needs!