Banners for websites are essential in today's dynamic world. When it comes to digital marketing, a website banner design helps to bring traffic to the website using clickable digital ads.
Most businesses look to optimize their conversion rate to increase that marketing funnel, but everything lies in how simplistic and clear the web banner design is.
Hence, this blog will show to create a banner design using visual examples using Pixso and other alternate tools that you can use as well.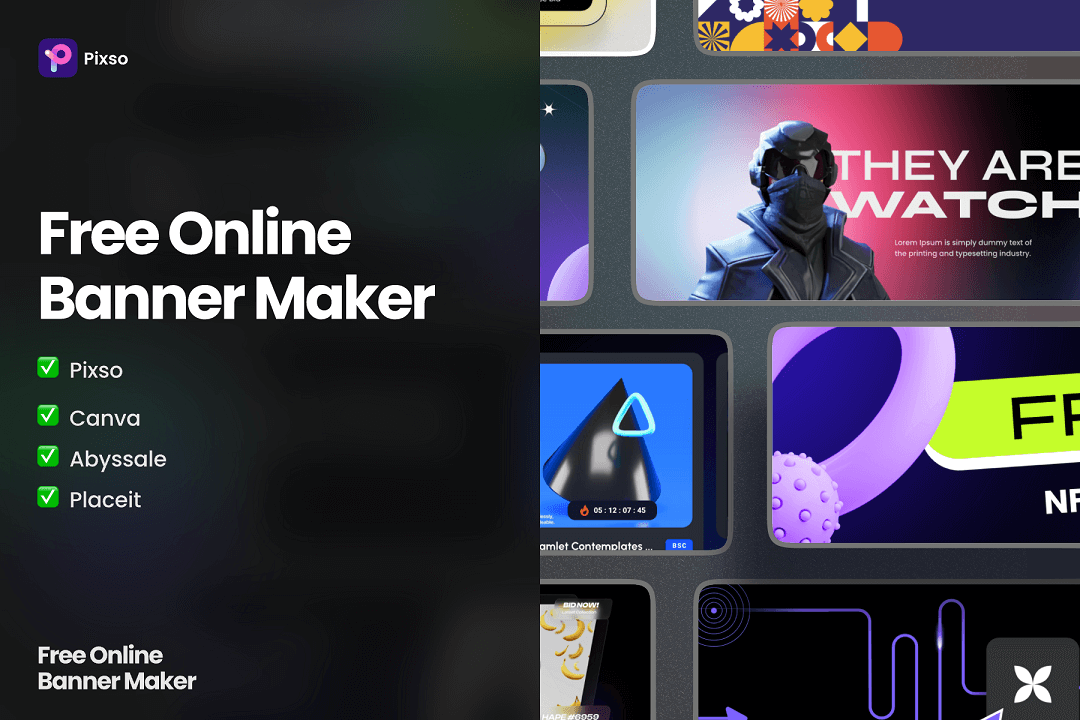 Part 1. How Do I Create a Banner?
1.1 What Web Banners Do You See Online?
Before diving into the steps of creating a banner, let's learn the common banner types first.
Social media banner: Marketing your company and products on social media platforms helps to drive traffic to your website. The first thing they see when they view your profile is your social media banner located at the top of the page. Your social media banner should reflect your core brand values and the things your company stands for. The color combination and theme should match your brand and also give a powerful message about your company's offer.

Resource from: Pixso community
NFT banner: Buying cryptocurrency used to just be tokens, but with the Non-Fungible Token art boom we are seeing unprecedented demand for digital art secured and distributed by blockchain technology. Here are some samples of NFT banner designs which you may get inspiration from.

Resource from: Pixso community
Universal web banner: Universal web banners are templates that can be used across different websites for different purposes. In digital marketing or graphic design, having a universal web banner helps in serving many personal and business objectives. Your typical universal web banner should follow the goal of your project and design all the color schemes and typography according to it.

Resource from: Pixso community
Check More Banner Design Templates >>
1.2 What Tool Should I Use for Creating a Banner
The above three are the common banner types we may see on the internet, and it's fairly easy to custom a banner you want only if you are using the right tool. Let us start by introducing Pixso. Pixso is a free collaborative design tool that designers and most small-to-medium-sized businesses would find valuable for achieving their design goals and objectives.
Here are a few key features of Pixso:
#1 Enhanced design functionality
Just like other online design tools, Pixso offers a wide array of design tools that equip designers to deal with small-to-big projects with ease. You can design gradients, and wireframes, add drop shadows, etc. Pixso's large canvas and multiple tools help designers to think outside the box and take their creativity to another level.
#2 Importing files
Pixso supports importing various design files from Figma to Sketch. This brings more options for the designers and enhances their productivity when they can import files from other design tools.
#3 Free to use
Pixso believes that every designer should have the opportunity to polish their design skills and build a prosperous design career. For that, Pixso offers free unlimited files and templates for individuals and teams to work on design projects together.
#4 Boosted collaboration
Speaking of working together, Pixso is a great collaborative tool that depicts similar collaboration functionalities to other design tools such as Figma. Working as a team can never be easier without Pixso.
#5 More flexibility
Pixso simply brings more convenience and working efficiency for every designer. For instance, Pixso has a built-in auto layout feature that lets designers scale their content on different screen sizes. Thus, saving hours and hours of work. Another top feature is you can preview prototype interactions without needing to download any apps. As a result, this makes it easy for the users to view prototypes and implement any changes along the way.
1.2 Steps to Design a Banner Using Pixso
You can design a banner instantly using Pixso. You can either design one from scratch or import banner templates available in the Pixso community. For this example, we will use the latter option:
Step 1: Go through the Pixso community and find banner design templates. Once you have found the one that appeals to you, simply click the "Copy" button to have it imported to your Pixso file.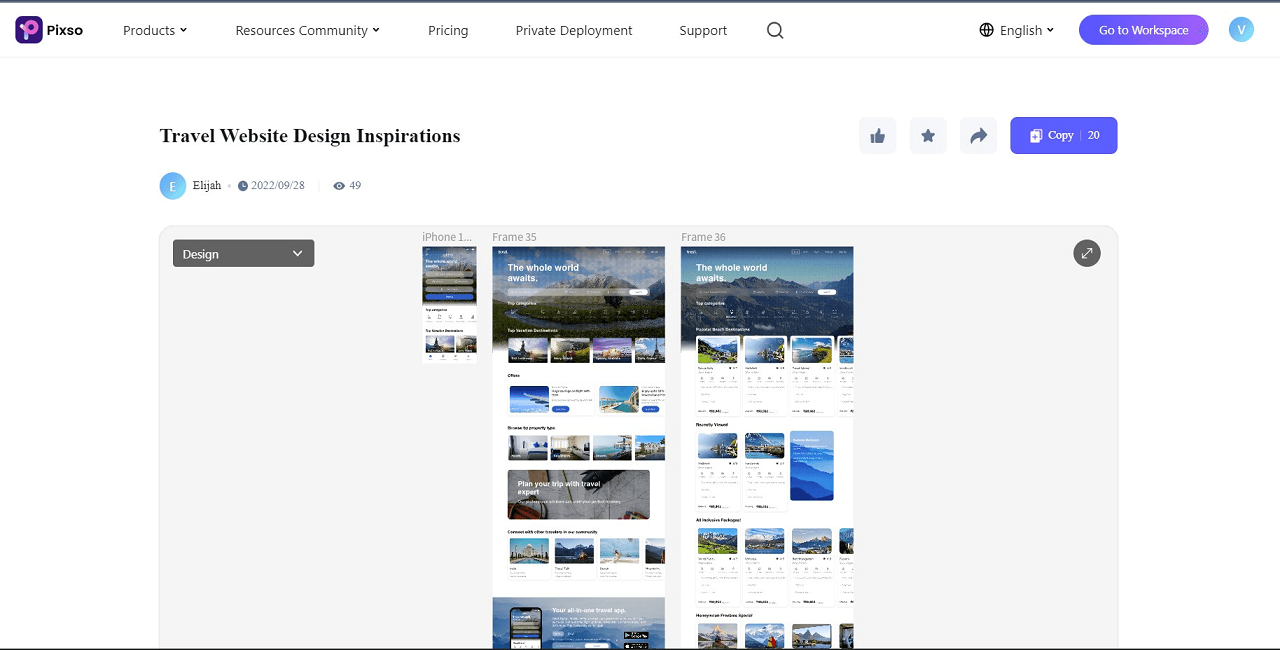 Step 2: An additional modal box will open asking you to open your Pixso file. Accept it and you will find the same design imported to your Pixso canvas.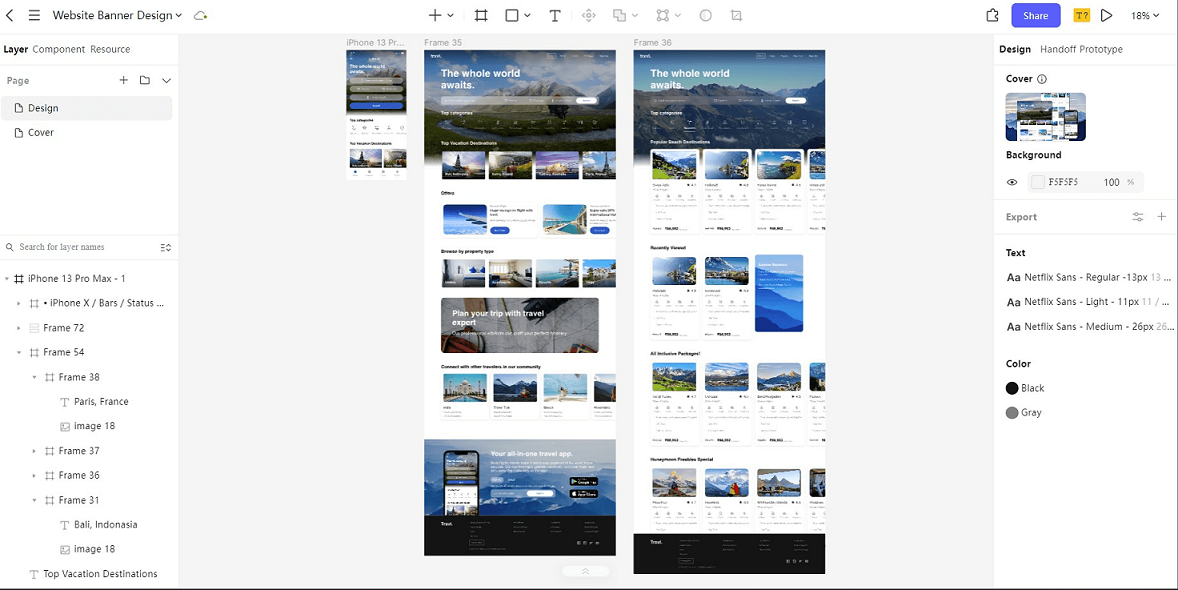 Step 3: Now you can customize the website banner by changing images, typography, color, and editing other design elements to your favor. Just like that, you can design a website banner in Pixso in only three simple steps.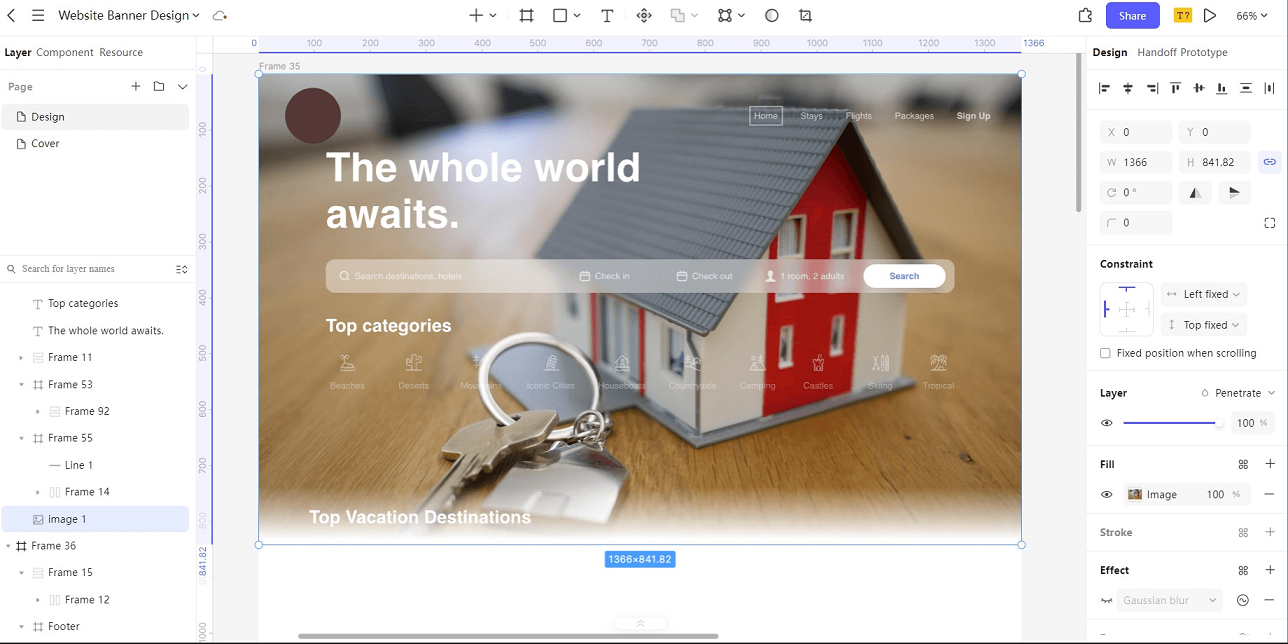 Part 2. Other Tools for Website Banner Design
#1 Canva
Canva is a reliable online design tool and can be a handy tool when it comes to creating different banner designs for websites.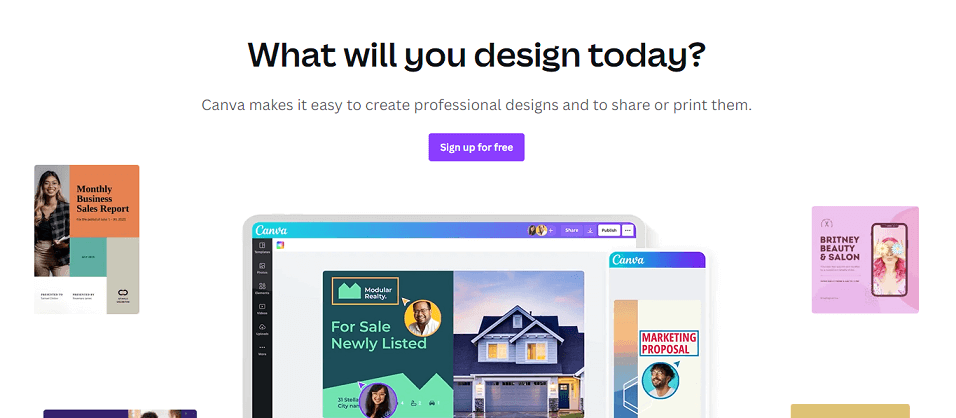 Pros:
It is free to use.
A simple drag-and-drop feature that makes editing easy.
Added customization tools for optimizing your banners.
It possesses enormous cloud storage to save many design files.
It has a user-friendly mobile app makes it easy to design banners anywhere.
Cons:
Its free version is limited and does not offer complete access to high-quality banners
You will need to upgrade to Canva Pro or Canva Enterprise to access more customizable banner design tools and options
#2 Abyssale
Abyssale is known for its automated banner creation tool—providing professional web banner design within less than a minute.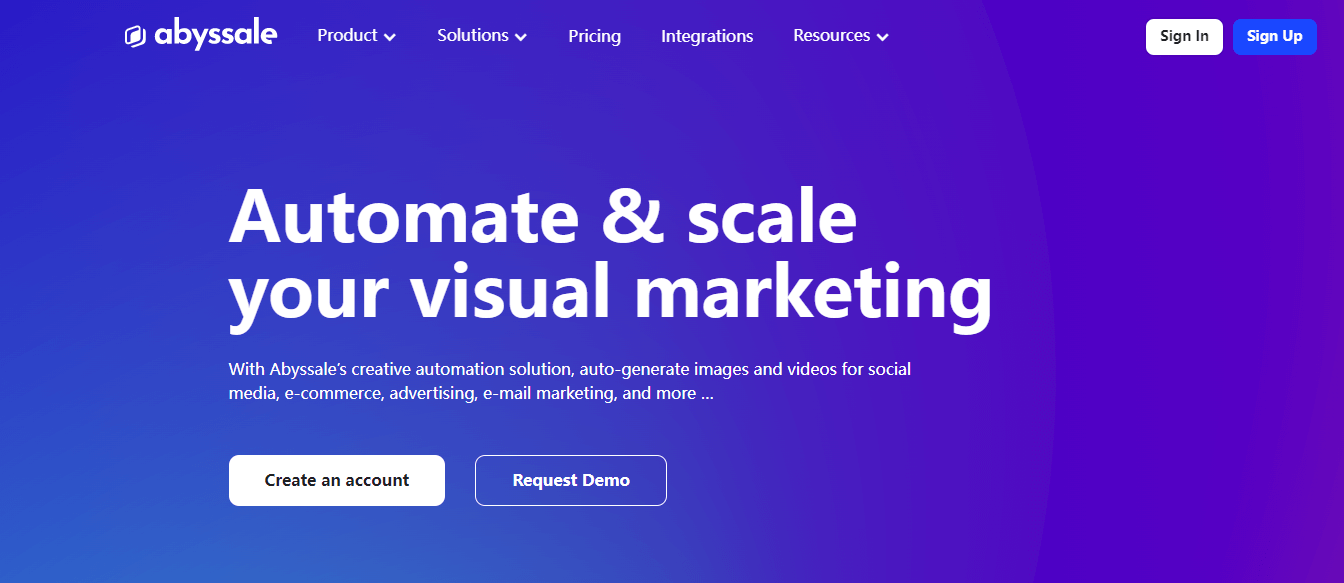 Pros:
It generates a wide range of web banners including social media banners, online shop banners, headers, etc.
An easy drag-and-drop feature for editing.
With just one click, the template will be generated instantly.
Users only need to design it once and can reuse the template an infinite number of times.
It can be directly integrated with sites like WordPress through a plugin.
Cons:
Its user interface is not beginner-friendly and will require some time to work around it.
It has limited templates available which make it a big downgrade compared to other design platforms.
#3 Placeit
Placeit is another great online tool that many can use to make banner design for websites. Just like Canva, all you need is to select a template from an extensive library and customize it.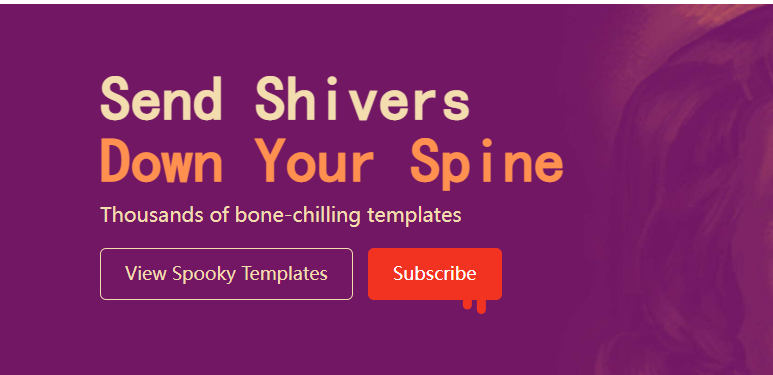 Pros:
Has an extensive library of web banner design templates to select from.
Easy to use and work around the interface.
It has an affordable pricing subscription plan.
It has an automated banner generation which can save you hours of work.
Cons:
Despite its benefits, it doesn't possess any collaboration feature which could be useful for teams.
There is no free download available.
The user interface looks outdated when compared to other design platforms.
Part 3. FAQs About Banner Design
Q1. What should a banner include?
A typical banner should include the following—an eye-catching headline that grabs the viewer's attention, a brief copy of what your organization does and offers, and visual imagery that sets the tone of your banner. Moreover, including call-to-action buttons and website links with an irresistible offer on the line can boost those conversion rates.
Q2. What are the types of banner ads?
These are some of the most common types of banner ads you see online:
Static web banners- This is your typical static image and text that are most commonly used all over the internet.
Animated web banners- This includes animated images or videos playing in the background. This helps to draw attention and those conversion rates.
Interactive web banners- These ads allow users to interact with them by having clickable design elements. This helps to boost engagement with users or prospects.
Expandable web banners- These small banners expand in size when clicked on. These are usually useful ad banners that intrigue users to click on them to reveal more information.
Rich media web banners- The most sophisticated banner ad out of the list and this may contain different interactive design elements such as videos, animated graphics, games, etc. Thus, boosting user engagement.
To Wrap It Up…
Banners allow individual designers and businesses to fulfill many purposes. Having an exquisite and high-converting banner design is crucial to grab users' attention and getting them on board with whatever your offer is. Explore Pixso's community and get a taste of different yet beautiful banner designs for websites.