In this digitally advanced and competitive era, designing products has become a lot more complex. The ever-changing customer demands, never-ending deadlines, client revisions, faster time to market, and similar other challenges are making it difficult to design feature-rich and quality products. Moreover, a single design team comprises developers, designers, information architects, content strategists, copywriters, etc. Therefore, a poor collaboration workflow among design team members can just worsen the whole situation. The recommended practice is that the design team has the right set of collaborative tools and strategies for effective design collaboration. This is exactly what this article intends to explain. Here you will learn how to improve design workflow with collaborative design tools.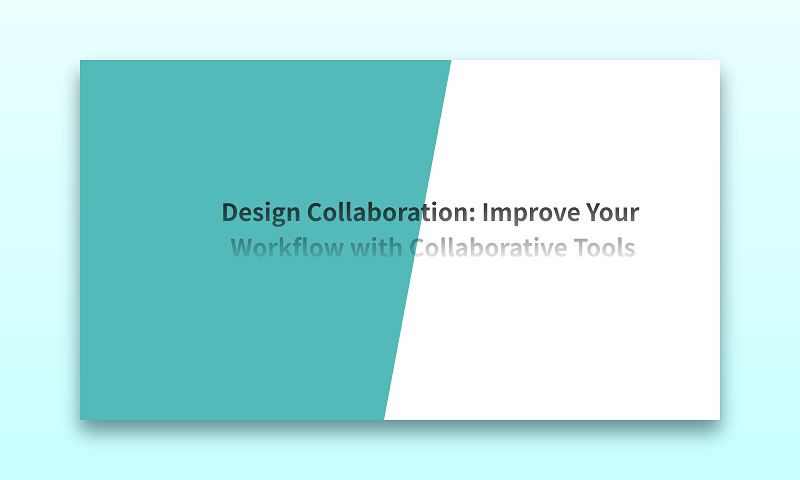 Part 1. What is Design Collaboration and Why is it Important in Design?
In simple words, design collaboration is the collaboration of different team members with unique skill sets to complete all the project workload with mutual cooperation and the aim of achieving top-notch, quality results. Through design collaboration, the best minds join hands to tackle all product-related challenges and deliver quality products.
Some of the key benefits of collaboration during the design process are as follows:
Enhanced Productivity: The collaborative design process breaks siloes among the team members and lets everyone contribute to brainstorming ideas and tackling challenges, thereby resulting in enhanced productivity.
Top-Notch Product Design: A collaborative design team means that developers, designers, testers, design architects, and similar others are all in the loop of the design process. Therefore, the product design is not finalized until the opinion of everyone is valued.
Faster Time to Market: The product design developed from the input of all key members mostly requires fewer changes in the end. Therefore, it's one way to increase the time to market.
Shared Ownership: Design collaboration engages every member, which gives a sense of shared ownership in the project's success.
Although design collaboration has tons of benefits, it is a complex process because it involves different stages and different skilled people. Therefore, there is a crucial need to have the right collaboration tool in place that can ease and streamline the collaborative design process.
Part 2. How to Choose the Best Free Collaboration Tool?
Picking the best collaboration tool is an invaluable asset, as it can uplift the design team's productivity to a whole new level and result in more quality products. However, there are plenty of choices available today when it comes to design collaboration tools. To help you pick the best free collaboration tool, below are the key evaluation parameters:
1. Assess the Design Team Needs
Understand how your design team works, how everyone fulfills their duties, the key challenges they face interacting with each other, and similar other elements.
2. Team Size
Evaluate the size of your design team. It is because a small team might not need complex tools.
3. Features
Intuitive user-friendly interface
Cloud hosting with cross-platform support
Artificial Intelligence (AI) based automation
Real-time collaboration
Built-in templates
Security
4. Set Goals
With the above evaluation parameters, you can start exploring free design collaboration tools and shortlist the ones that suit your needs. Afterward, you can try them out and then pick one final tool. Moreover, you can also take a look at the new emerging design collaboration tools below.
Part 3. The New Emerging Top-Class Design Collaboration Tools
1. Pixso
Pixso is a leading one-stop enhanced digitalized teamwork tool that provides a state-of-the-art web-based UI/UX design collaboration platform. It provides real-time multi-user collaboration for effective prototyping of products, such as synchronizing color, border, font size, and other elements in real-time. Moreover, it provides all the tools, component variants, and other features that users need for completing UI/UX design. Besides that, it supports automatic layout, prototype demonstration, and stimulation of the final product form.
Advantages of Pixso
Its free plan allows individuals to create unlimited teams and files.
It supports importing various file formats without affecting the original layout, such as .fig, .pix, .svg, .xd, etc.
It can handle full-stack design, prototyping, and delivery.
It features link sharing which provides convenient developer handoff.
Free design resources/templates are provided in the Pixso community.
Pixso offers private deployment, and business owners can customize it according to actual needs.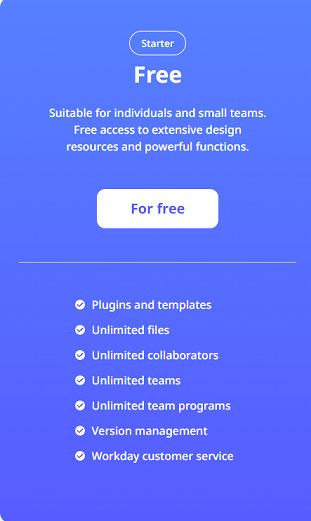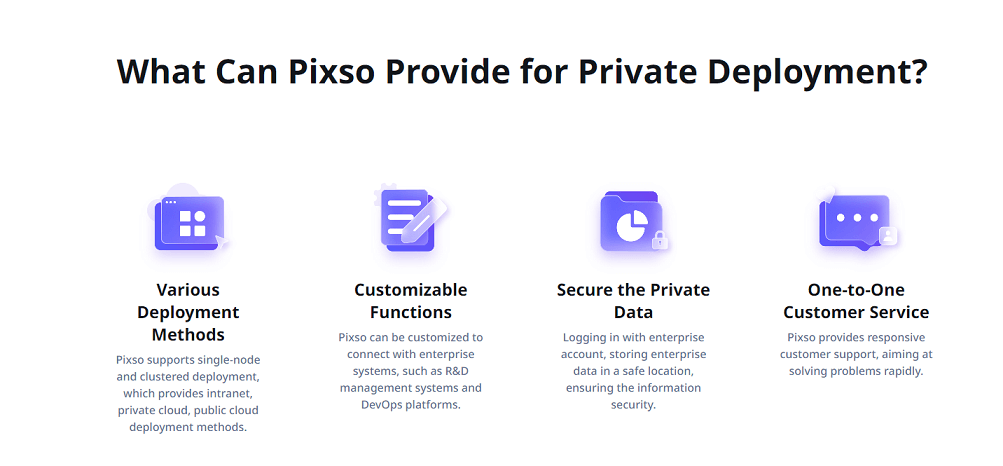 2. InVision
InVision is another powerful cloud-based workspace for teams that offers real-time collaboration with a centralized workflow. It enables users to have easy and streamlined teamwork in every stage of the project. It provides 100+ templates related to different categories, such as brainstorming, strategy, and planning, effective meetings, research, design, etc. Moreover, it keeps everyone connected with stickies, comments, etc.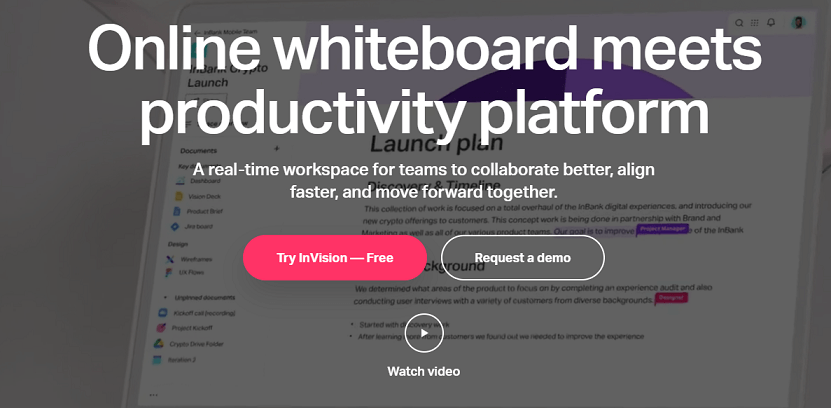 Advantages of InVision
It can integrate with other popular tools, such as Zoom, Microsoft Teams, Adobe XD, Google Docs, Loom, Jira, etc.
It encrypts data with industry standards, such as SSL and AES-256.
It provides exceptional real-time collaboration.
Its user interface is straightforward and user-friendly.
Disadvantages of InVision
Its free plan only supports 100 active users.
It offers limited prototyping functionality.
Its inspect mode also offers limited functionality.
3. Bluescape
Bluescape is an intuitive team collaboration platform that streamlines whiteboarding, planning, brainstorming, decision-making, reviews, creating presentations, and a lot more. It provides pixel-perfect content sharing, such as high-resolution files, video uploads, editable documents, etc. It enables the teams to quickly ideate, present, and get approval from a single virtual workspace.
Advantages of Bluescape
It provides a feature-rich intuitive interface.
It provides easy customization of templates.
It lets teams efficiently collaborate on the whiteboard.
Disadvantages of Bluescape
It provides limited capabilities under its free plan.
Large files sometimes fail to upload.
Old users might find it challenging to use.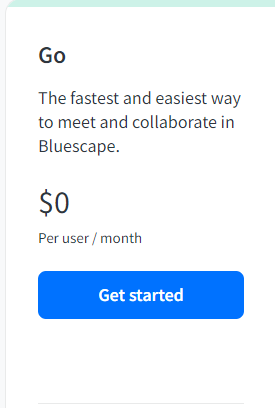 4. Mockplus
Mockplus is an all-in-one product design and collaboration platform that streamlines prototyping and designing. It empowers to quickly turn ideas into interactive prototyping with interactions, icons, and components. Moreover, it can take designs from Adobe XD, Sketch, and PS.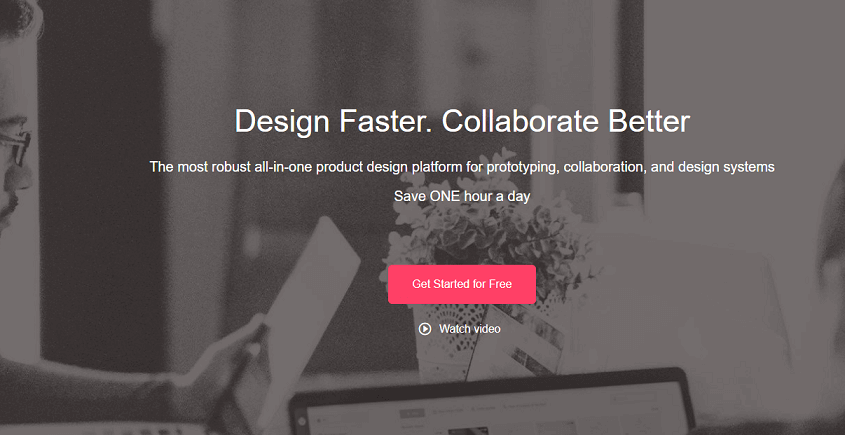 Advantages of Mockplus
It can automatically generate code snippets, assets, and specs.
It can build interactive prototypes.
It makes managing the design system easy.
It offers a variety of comment styles.
Disadvantages of Mockplus
Its free plan only supports 10 users and 10 projects.
The user interface can be struggling to grab for some users.
It is not handy for creating complex UI designs.
Conclusion
Design collaboration is an effective way to streamline the design process, bringing everyone on one page, tackling challenges like a team, and delivering premium-quality products. Moreover, it also helps to leverage the full expertise of all members effectively. We provide four collaborative design tools in this post, just pick the right design collaboration tool that suits your business model and elevate your design process today.