Almost 85% of the designers around the world know Figma, an web-based UI/UX design tool that won its reputation in recent years, especially after the Covid-19 epidemic. Although Figma is definitely a great collaborative tool for teams, it also has many shortcomings. That's the reason why many people are looking for a Figma alternative online.
If you are one of them, then you are at the right place. In this article, you can find the best Figma alternative, which is as powerful as Figma, and most importantly, free to use. Keep reading.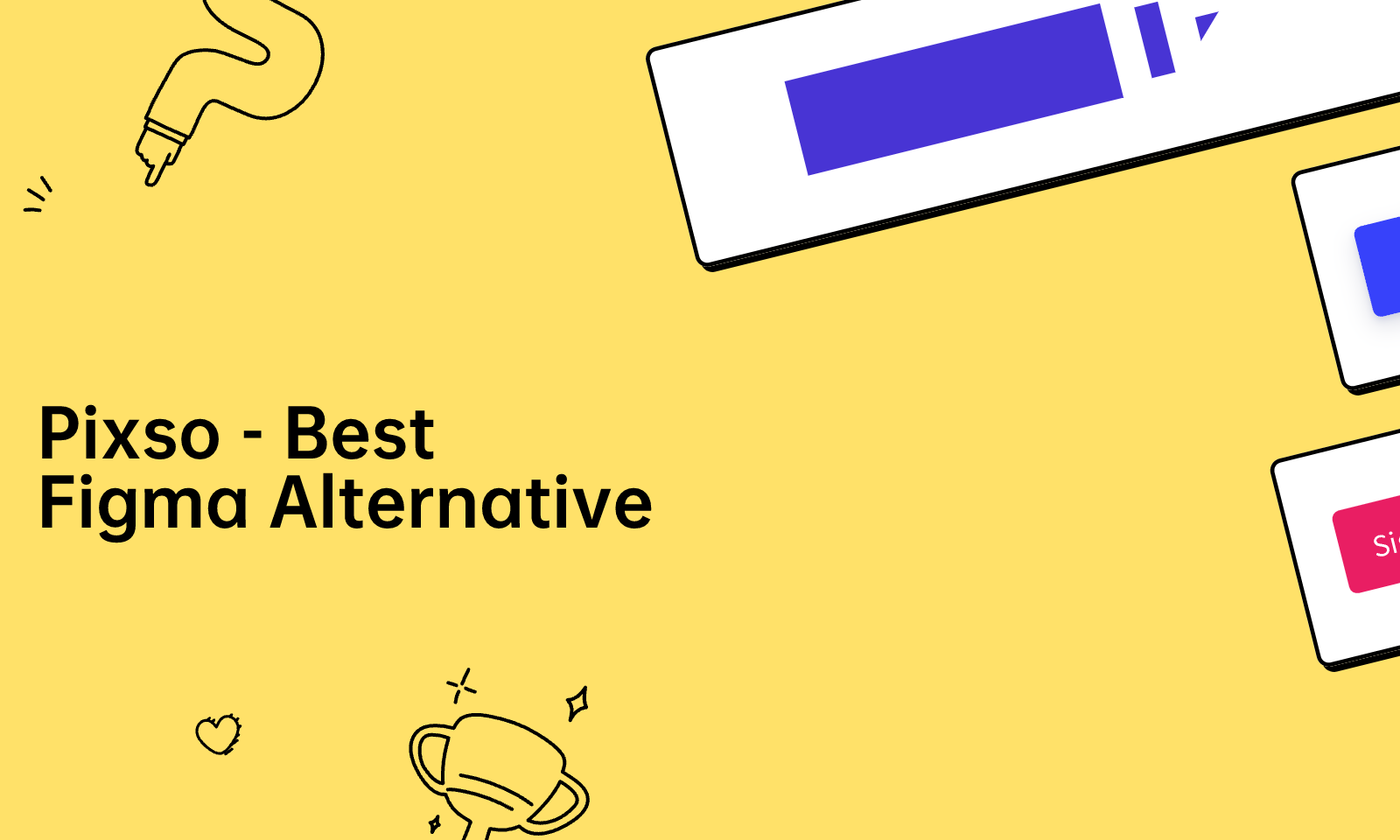 Why Do You Need a Figma Alternative
Here we have collected some feedback from people who are seeking for a Figma alternative, in which they explain the reason why they don't opt for Figma.
A senior designer of a Internet company said:
"Figma was a tool my company used for about 1 year. It creates a new style of design without doubt. However, it really has some fatal bugs. One is the buggy synchronization. It failed to upload my latest works to the cloud when I lose the internet connection or have a weak one every now and then, which really wastes a lot of time and efforts to redo."
A junior designer of a technical company said:
"I like to use Figma during designing with my workmates. While as a professional design tool, it is really disappointing to have no global colors. Every time when I want to have a customized design file, I need to adjust colors one by one. It's really a torture!"
A manager of a fashion company said:
"Figma is not bad but I have to consider the cost. It is expensive if your company has a big designer team. The accounting department told me that last year the single Figma software costed over $5000, not to mention the extra expense for data safety. A really big budget."
A freelancer said:
"I've changed 3 computers to run Figma. Even so, my computer still in regular crash. Figma is like a monster eating RAM of PC. And even though I rarely need collaboration during designing, I have to pay the same price. I have to say it is a kind of waste of money for freelance designer."
To sum up, Figma is not an ideal option if you want to ensure the accurate and quick cloud-synchronization, to use the global colors, to cut off the high expense or to protect your computer. Next, let's find the best Figma alternative that can meet all your needs.
The Best Figma Alternative (Free) - Pixso
Pixso, a collaborative design tool welcomed by professional designers and various companies. As the new-generation software, it shows the robust function in UI/UX design, development and delivery. We should say that everything you can do on Figma can be also done on Pixso. With Pixso, you can finish prototyping, designing and developing all at once. Besides, all collaborators can review the project file and give the feedback in real time. You will definitely witness an surge in teamwork efficiency after using it.

Why Is Pixso the Best Figma Alternative
You may wonder why Pixso is called the best Figma alternative, and in this part you can find the answer.
Great compatibility: If you have used many other design tools and find them hard to manage different files all at once, then Pixso is your best option. It supports various files exported from Figma, Sketch, Axure, Adobe XD and so on. In a word, you can finish a easy switch from other tools to Pixso.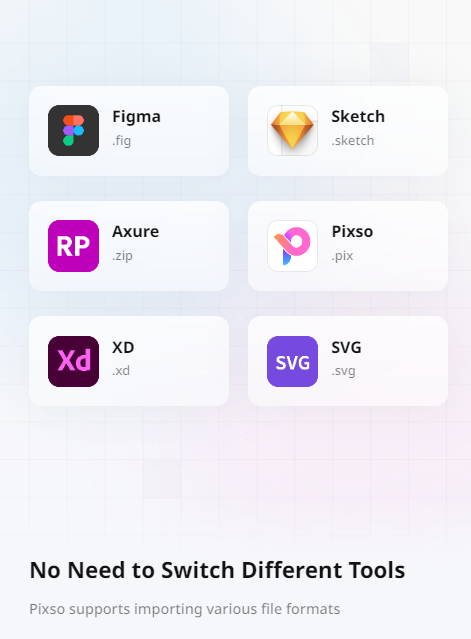 Multilingual version: Unlike Figma that only supports English, Pixso now has 4 built-in language systems. They are English, Chinese, Japanese and Korean. That's to say, you don't need to worry about the communicative barrier between you and your foreign colleagues. It is a really urgent demand of cross-boarder companies.
Private deployment: If your company takes data safety as priority, then Pixso team can customize the private deployment based on your needs. All the data will be under 100% protection and you can also choose the intranet, private cloud and public cloud to save them.
Cheap price: Figma offers users with a free trial that only permits 3 Figma files. And if you or your team wants to use it for a long run, the cost will be surprising as we all know its high price. However, you can use Pixso for free if you are a freelance designer and require no advanced collaboration and features. There is no file limit, and you can create as many Pixso files as you like. Besides, you will not see any ads during working as other free tools. If you are in a team or an organization that requires more advanced features, then the price will be reasonable. Pixso promises that its price will be greatly lower than Figma!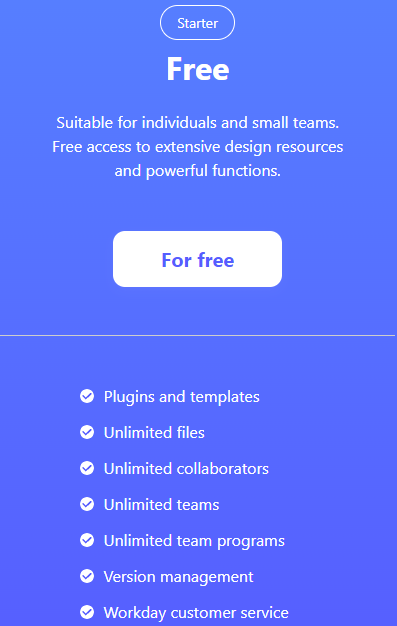 Real-time cloud synchronization: Like Figma, Pixso is a cloud-based design tool. However, Pixso team researched for a long time and finally found the way to achieve the truly real-time cloud synchronization. To be specifically, Pixso will sync your latest file to the cloud with no break. Even you lose the internet connection or have the weak connection, Pixso will try to upload the changes as long as your PC reconnects to the net. In the near future, Pixso team will release the app version, on which all changes made offline will also be uploaded to the cloud once you regain the internet connection.
Various resources: As a designer, you may sometimes feel uninspired and work out nothing for hours. However, in Pixso community, you can find all kinds of resources like component sets, icons, design systems, illustrations as well as excellent works on different topics. You can copy these templates for own use with one click. And the community will hold interesting activities regularly. Isn't it a good chance to express yourself and exchange ideas with other designers?
Efficient Design-Development-Delivery Workflow: On Pixso, you and your collaborators can work together in real time. If you are a designer in a project team, then the developer can get slices and certain CSS code quickly and easily. After everything is done, you can share the file link with the project manager for delivery. The whole workflow is clear, efficient and effective.
Powerful functions: On Pixso, you design in any way you like by freely using auto layout, prototype playback, vector grid, component library, Boolean operation and so on.
Conclusion
After reading this article, you can have a full review of Pixso, the best Figma alternative on the market. Compared to Figma, it is undoubtedly a more cost-effective collaborative design tool. So if you want to do something brilliant with a low cost, just opt for Pixso now!