UI vs UX design is a commonly discussed topic in recent times. Although these terms are most frequently used in tech and digital fields, they also apply to non-technological services.
Generally speaking, UI simply means 'User Interface' while UX means 'User Experience'. Both are essential to a product and collaborate closely. The positions themselves, however, are fairly different, referring to quite different areas of the product development process and the design discipline, despite their professional proximity.
In this article, we'll bring you a detailed review on UI vs UX. After reading the post, you can easily figure out differences between them.
What Is UI and UX Design
UI Design
UI design refers to the visual interface of a product that users interact and communicate with. This design process ranges from choice of the font, color, icon, image, button, widget, design layout and so many more. It is basically what can be seen - looks and styling.
The UI designer works from a graphics perspective and focuses on visual hierarchy. If a user finds the design of a website to be very beautiful with the texts being easy to read, the UI designer has done a great job in this respect. The goal of UI design is to produce user interfaces that are visually appealing to users. And the core standard of UI design is: How does it look?
UX Design
UX design refers to the process a user goes through while making use of a product, as well as the feeling and emotions experienced. It refers to 'what is felt', positive or negative. This involves mapping out ideas into wire-frames or low-fidelity designs.
User research is a prerequisite for beginning UX design. A critical step in the UX design process is comprehending and determining the demands of the target audience. If a user has trouble finding a crucial button or page, the UX designer did a poor job. The goal of UX design is to ensure users get a positive experience with the product. The user should feel satisfied with the engagement, whether it gives pleasure, a solution to an issue, or assistance in locating important information. And the core standard of UX design is: How does it feel?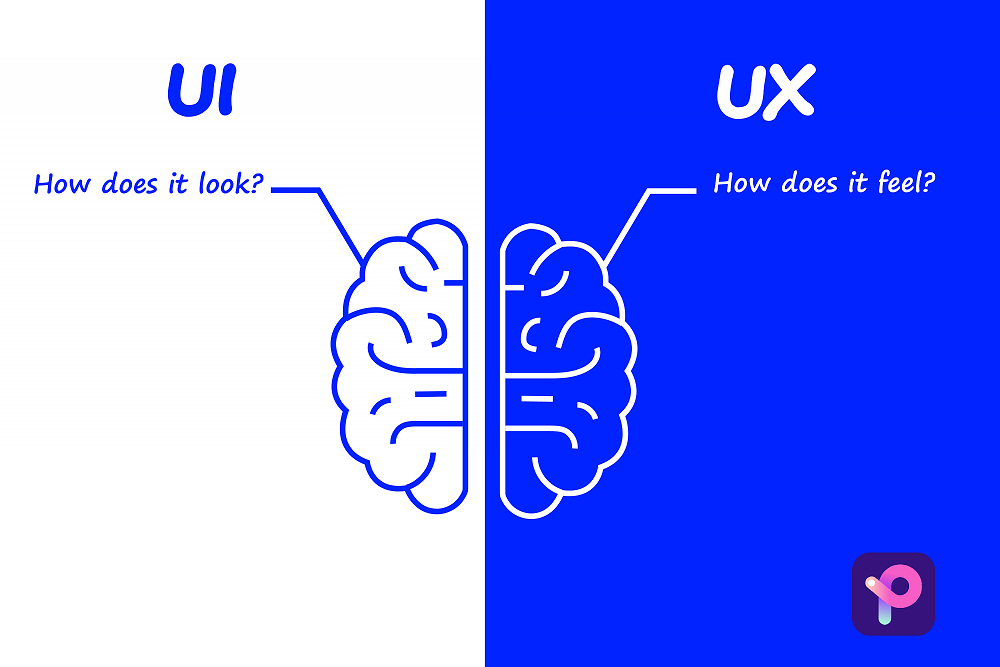 Even while UX designers frequently start the product design process, it should be remembered that it is more of a cycle. The UX designer will undoubtedly access the visuals even after the UI designer has finished creating them. This continues until user satisfaction is achieved.
UI Vs UX(Design)
Differences Between UI and UX
It's typical for individuals to misinterpret the phrases "UX design" and "UI design." Although the employees in these two professions must work closely together to produce a product, their jobs are very different from one another.
While UI designers are concerned with the appearance of the digital product, UX designers are concerned with how the audience will interact with the product.

UI designs can be touched. They can be examined physically. However, UX designs cannot be quantified.

UI design includes visual/artistic elements. It has to do with the product's user interface. UX design, on the other hand, includes more of a social component that is employed for client communication and market research.

While UI designers develop products and designs that encourage user interaction, UX designers frequently produce wire-frames and tested prototypes that serve as the foundation of a website, app, or other digital services.

While UI designers work on developing user-friendly, visually beautiful, design patterns, UX designers typically concentrate on building a solution that addresses an issue.

UX designers carefully consider how to make a product simple to use, whereas UI designers carefully consider how to make a product beautiful and fun to use.
Similarities Between UI and UX
A great product must have both excellent UI and UX design. Without either one, the goal of user satisfaction cannot be achieved. Despite their differences, the two areas of product design share several same characteristics.
Together, UI and UX design strive to achieve the common objective of user delight. The goal of them is to provide a product that is imaginative, distinctive, fashionable, and pleasing to the user.

Both UI and UX require deep and wide research. This is a crucial component based on the preferences of the target audience.

Both of UI/UX designers try to comprehend how customers want to interact with a product.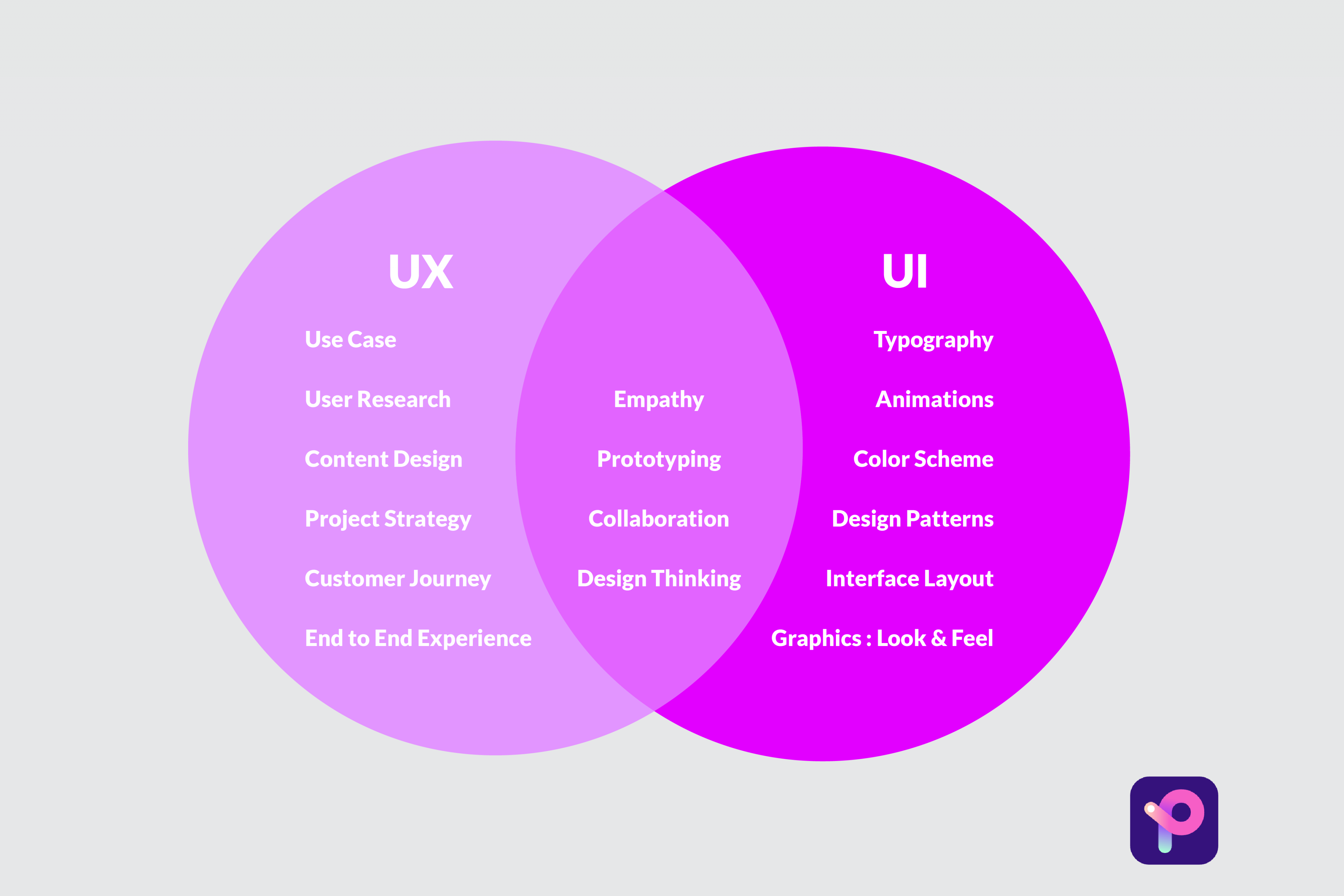 How Do UI and UX Work Together
Though fundamentally distinct, UI and UX designers work well together when creating designs. The two primary positions of UX and UI designers can be seen as working together frequently to ensure a project's credibility throughout the design process. Therefore, when it comes to product design, UX and UI support one another, and in today's business climate, getting both components correctly is key.
Regardless of whether you want to work as a UI or UX designer, it is beneficial to understand both because you will work together.
Let's have a case study. You come up with an idea to build an application and hire professionals in both fields. Your UX designer carries out user research, notes the essential features required for your app, and gives these wire-frames to the UI designer. Then UI will design the interfaces of the app based on the wire-frame provided by the UX designer.
After completion, your app offers the exact service it promised and can help solve users' issues. However, the users find the color scheme very disturbing and the fonts used unappealing. Then there is a UI problem. On the other hand, if users find the application really beautiful but too technical to use, we have a UX problem. Good UI can never repair the damage done by bad UX. It is like getting a fresh-looking orange that tastes rotten.
A UX Designer ensures that designs are constructed in the most effective way possible for the best results, whereas a UI Designer is responsible for developing designs that users find comfortable and like engaging with. Without UI, there is no UX, and without UX, creating a UI serves no purpose.
Understanding the critical role each profession plays in the broader area of human-centered design is important, even if the fields of user experience design and user interface design will undoubtedly continue to develop. User satisfaction will be the ultimate goal of evolution in all forms and at all scales.
Best One-stop UI/UX Design Tool - Pixso
I've used several tools while working on both UI and UX projects. I would love to recommend a few. However, for both beginners and seasoned players alike, I cannot but recommend a particular tool I have grown to love so much, Pixso. Here's why.

When I stumbled upon Pixso some time ago, I was interested in finding a handy UI design tool. When I got to using Pixso, I realized it was a powerful tool for UI design as well as UX design. Imagine the joy. A single tool, for all purposes.
Why am I so enthusiastic about this tool? Well, Pixso is a capable prototype tool, for starters. It functions perfectly for both engineers and designers. The whole workflow of prototype, design, and development has been made available, extending from product design through R&D activities. It enables cross-platform collaboration, real-time cloud synchronization of data, and strong design features.
On the same canvas, tens of thousands of layers may be scaled at will without affecting performance, and it is easily compatible with the most popular design tools available right now, saving businesses money.
Also, in terms of interaction design, it provides a total of
300+ interactive effects,

6 different types of transition animations,

7 different types of dynamic curves,

8 different types of mouse/gesture command actions/unique transition time/direction.
Pixso is an all-inclusive platform based on cloud browsers, which won't occupy a lot of CPU.
It allows you to flip between design and prototype presentations effortlessly without the need to continually synchronize design drawings to third-party platforms. You can also immediately build interactive logic leaps using the prototype feature before seeing the final result.
You can also preview GIFs to fine-tune the action and animation design and continuously improve the user experience in partnership with the team. The best thing about Pixso is, that you don't need to have a separate tool. It brings both UI and UX to one table!
Conslusion
You may have a clear and overall understanding of UI vs UX. That's the reason why we write this post. You can choose to be a UI designer or UX designer based on your interests. And we hope this article will be the assistance for you to make the final decision. And the professional UI/UX design tool Pixso is really one of your best choices. Just try out its free trial version now!