Try Pixso for Free
Sometimes, it can be challenging to present for UI/UX designers to present ideas to stakeholders. They may not fully buy into the idea or require a visual representation of what you are planning. Moreover, they need to know what your inspiration is so that they can be on board with your ideas. For that, mood boards come as a proper aid to the UI designer's rescue.
Pictures and imagery speak a thousand more words and are easier to transfer ideas than what we discuss in conversations. Hence, this blog will talk about what mood boards are, why it is important, what a typical mood board should have, and a few mood board examples. Let us dive deep then, shall we?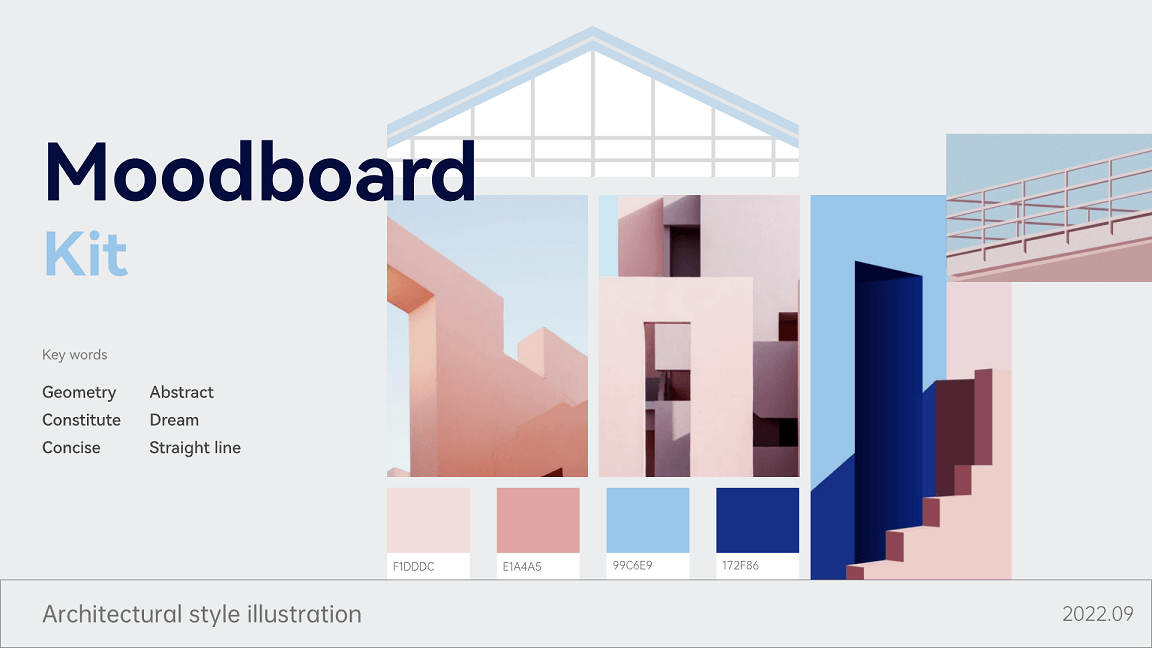 Part 1. What Is a Mood Board? Why Is It Important to Your Brand?
What Is a Mode Board
To convince clients and other stakeholders of your ideas, a mood board is used. A mood board is essentially a collage of images, graphics, shapes, patterns, text, and color palettes. It acts as a presentation tool for UI/UX designers to present their ideas to the stakeholders. Because why would you want to spend hours making a long presentation when you can just present all your ideas on one mood board?
Why Is Mood Board Important
Here are a few reasons why mood boards are important to your brand:
It aligns with business goals
Mood boards help to define your brand using visual representation. It can help UI/UX designers and stakeholders compromise on the right color palette, patterns, and image choice to go with their marketing campaigns. It ensures that the selection of thoughts and ideas aligns with the business goals and defines the values of the brand.
It can inspire designers
Mood boards are often one of the easiest ways for designers to remove any obstacles to their creative minds and put all of their ideas onto a blank canvas. Going through other mood boards also inspires designers to come up with their own mood boards. As a result, it helps boost their creativity.
It provides a direction
Mood boards are simply a catalyst for providing designers and stakeholders with where they will be going with the project. Just like how a business plan or a vision and mission statement helps an organization steer towards its goals, a mood board does exactly that and provides everyone involved with a clear direction.
It is simply an efficient brainstorming tool
Another significant reason why mood boards help your brand is because of their time-saving nature. Mood boards save you hours and hours of brainstorming by simply presenting your inspiration onto a physical or a digital mood board for stakeholders to review. It gets your message across quickly and in a more simplistic way to everyone.
Furthermore, it is a fine collaborative tool that allows more than one or two people to share their thoughts and edit the mood board.
Part 2. What Should A Mood Board Include?
So, what exactly goes on a mood board? First and foremost, there are two types of mood boards—physical and digital mood boards.
A physical mood board is a board that you can create utilizing different physical materials such as:
Paper
Magazines
Books
Photographs
Wall
Paintings
Corkboard
Fabric
Scrapbook, etc.
On the other hand, a digital mood board—which is commonly used—makes use of digital tools and software to design your unique and inspiring mood board.
What your mood board should address?
It should define your target audience
Firstly, your mood board should indicate who your target audience is. After conducting research, you will know who your audience is and incorporate various ideas that define your audience.
It should conceptualize a theme
Knowing who your target audience is will make it easier to work on a theme. If you are targeting other businesses, then a professional theme with formal colors and imagery would be required. On the other hand, if you are targeting a younger audience for a clothing store, then a more groovy and fun-looking theme is best utilized then.
Include all the materials that inspire you
When making a mood board, you must gather and include all types of patterns, colors, imagery, and typography that help the stakeholders buy into your ideas. Never leave out any resources you find that contribute to the project. Always make space for them in your mood board. Use external sites like Dribbble, Pinterest, Instagram, and other image libraries to gather the resources that will help you complete your mood board.
Part 3. How to Make a Mood Board
Let us know the practical steps to make a simple mood board for inspiration. For this example, we will take Pixso as our design tool to make one:
Step 1. Open a new file on Pixso and you will view a blank canvas.
Step 2. Use external sites like Dribbble or Pinterest to gather resources. For this example, we will take some UI design for a health and fitness app design project from Pinterest.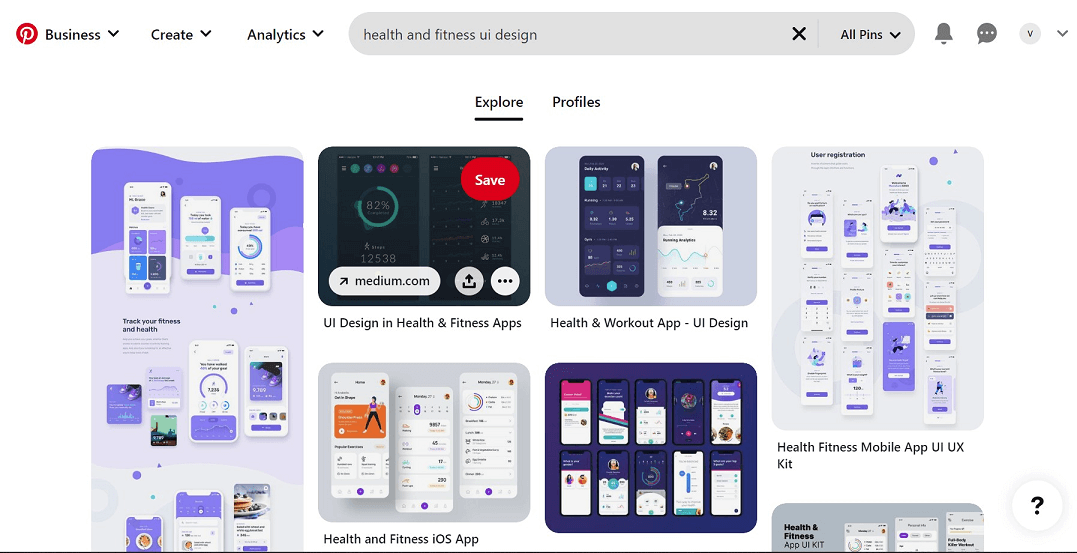 Step 3. Simply select the pictures that inspire you and copy the image.
Step 4. Then return back to your Pixso canvas, and paste all the pictures onto them by pressing Ctrl + V.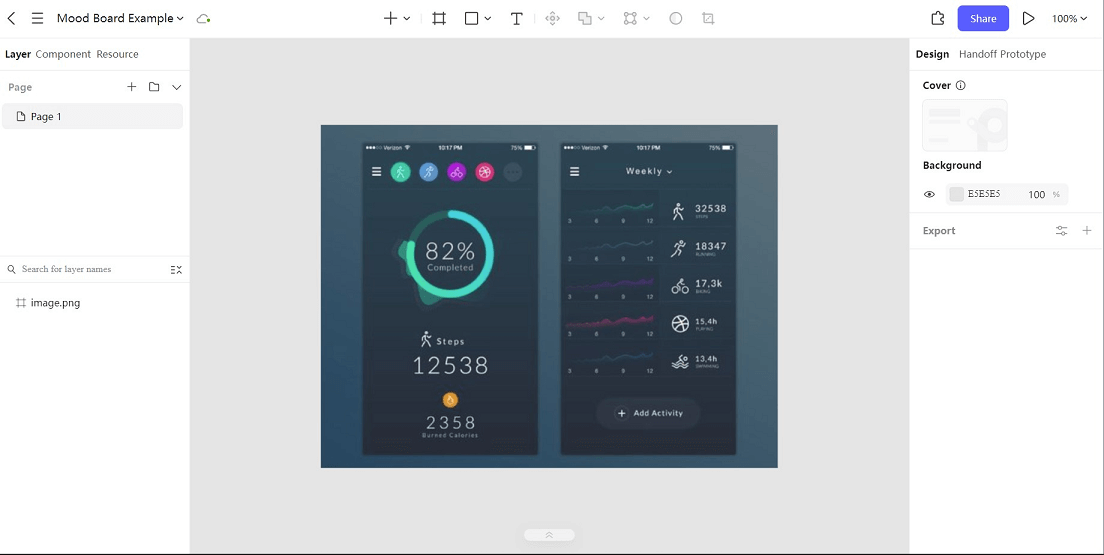 Step 5. By adding all pictures for inspiration, you can arrange them in any order you want and you have a mood board. You can also add color palette indicators and fonts to your canvas to showcase what details you will incorporate in your designs.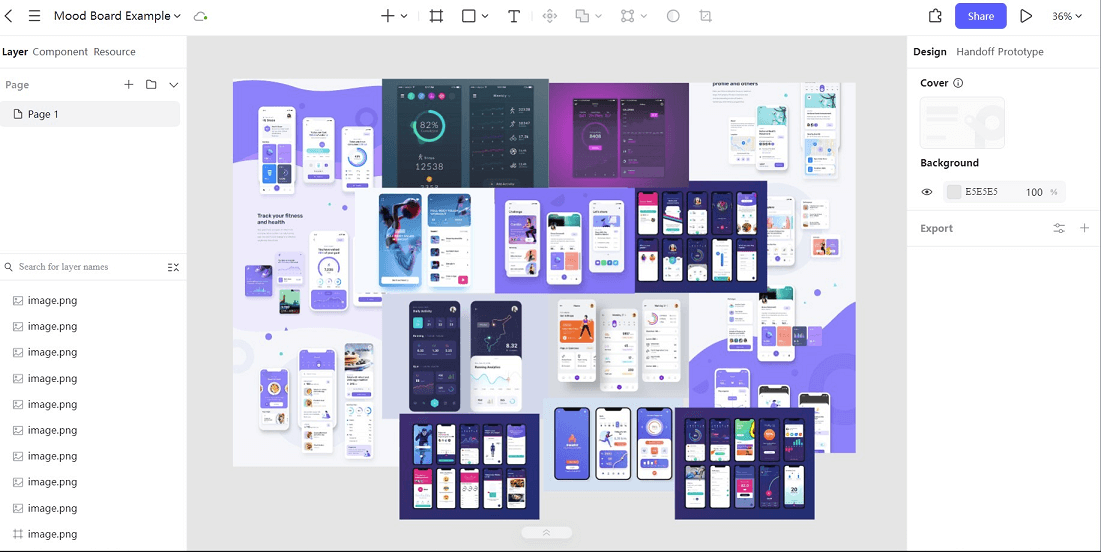 Part 4. Some Great Mood Board Examples for You to Choose
In this section, I will introduce some inspiring mood board examples for you to choose from and get a clear indication of how to approach your upcoming design projects.
#1 Vibrant Style Tile Mood Board
This mood board on Webflow follows a vibrant feel—utilizing energetic colors like red, orange, and shades of grey. This visual representation shows the colors used, the typography utilized, and some imagery that will be used in the interface.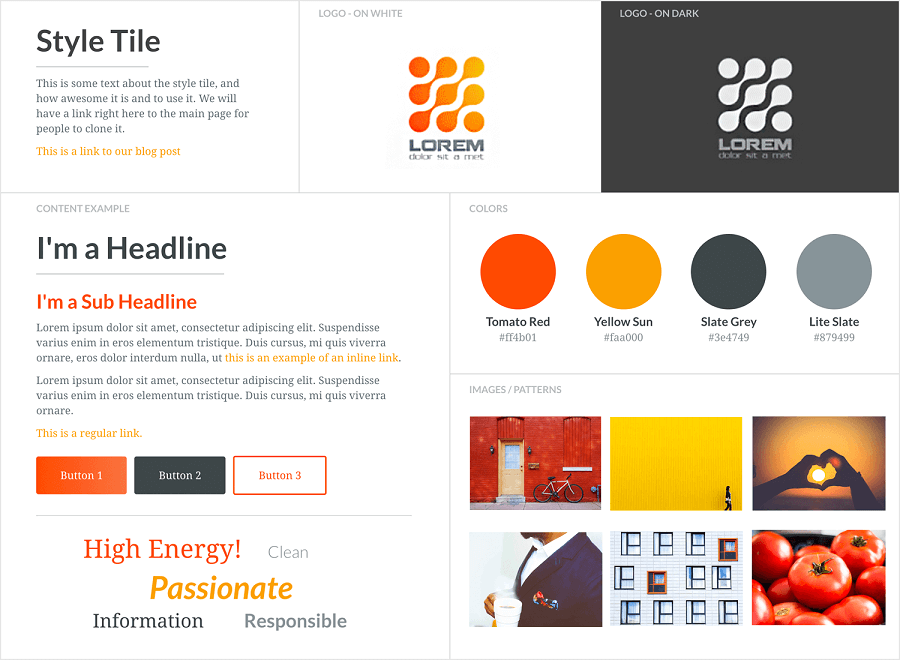 Source: Webflow
#2 Website UI Design Mood Board
This mood board in the Pixso community features a website UI design for a travel site. It shows illustrations for its web version and mobile version. Thus, providing inspiration and conveying the idea to other stakeholders.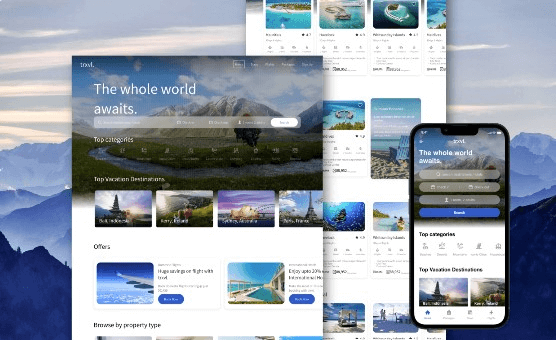 #3 Elegant Design Mood Board
This mood board features classy photography and illustration of color palettes adopted in this style tile guide. Its organized look with usage of minimal white space in between makes it easy to understand the feelings behind this mood board.
Part 5. FAQs About Mood Board
Q1. Is Pinterest a mood board?
Pinterest is a visual search engine that gives creatives inspiration on various designs and artwork. Pinterest is one of the best places to find creative and inspiring mood boards belonging to various categories. You can find ready-made mood boards from various users and other imagery that can help you to make your personalized mood board.
Q2. What is the difference between mood boards and inspiration boards?
The mood board's main purpose is to evoke emotions and feelings. It provides a more conceptualized and psychological meaning. In a nutshell, mood boards are supposed to be the simplest way to get a designer's message across to various stakeholders. On the other hand, inspiration boards provide more depth into fine details and elements such as colors, textures, patterns, etc.
Q3. What is the difference between mood boards and mind maps?
Mood boards help you to find inspiration when considering elements like color palettes, fonts, patterns, and images. Whereas, mind maps help with your research by filtering your ideas and providing an overview—connecting different ideas and concepts to make a meaningful flow of planning.
Mood Boards Can Make Your Process Enjoyable…
Mood boards can be fun and simply pleasing to one's eyes. However, there is a deeper purpose in having them as this blog has taught us. Using the above mood board examples, you can get inspired and start undertaking your design projects confidently without worrying about any designer blocks. Use mood boards to your advantage and initiate your design projects on the right foot.