Try Pixso for Free
Fancy an adventure? Pokemon Go brings that real-life experience by engaging users to go for a walk and catch them pokemons. It is an augmented reality game that focuses on using real-time maps and cameras to transform real-world objects with collectible pokemons.
This takes gamification to the next level as more and more users engage in enjoying every moment of being in an adventure. Being a real-life pokemon trainer is probably many people's dream after watching pokemon throughout their childhood and now living the role.
Talking from a UI designer's point of perspective, let us go through why this game engages users by studying its user interface. This blog will be an in-depth review of pokemon go UI and an understanding of the pros and cons of it.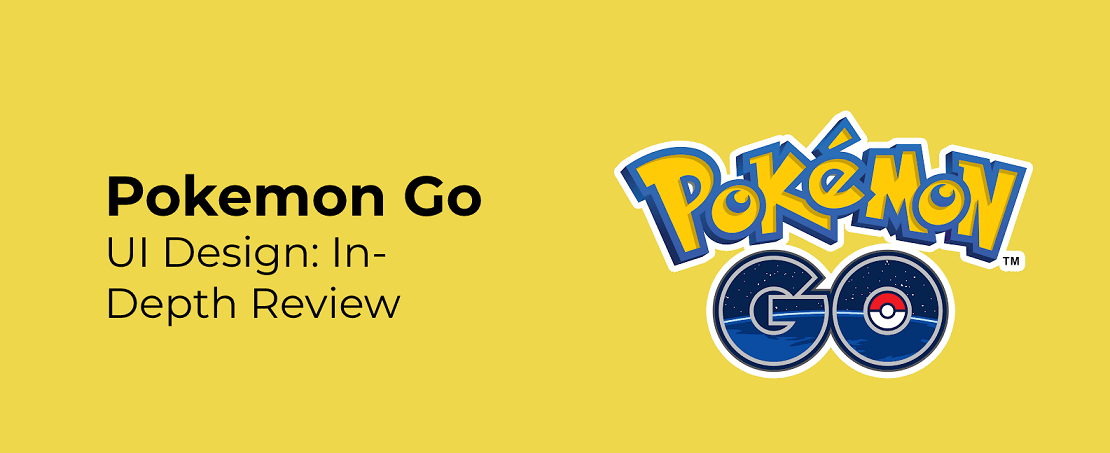 Part 1. What Makes Pokemon Go UI Design Appealing?
Let us understand why the pokemon go UI design makes the game so appealing to users. You may think the purpose of the game by finding pokemon in the real world is the sole driver of that engagement. You ain't wrong but the UI design plays a huge part in making sure the users get a good experience using the app and fully engage in their quest. Here are a few reasons:
Bringing familiar designs into the mix
One big reason for pokemon go's UI vast appeal is the designers and developers taking familiar design elements and UX from older pokemon games—creating familiarity for users. When users are already familiar with conventional and previous design patterns, it makes the experience more pleasurable.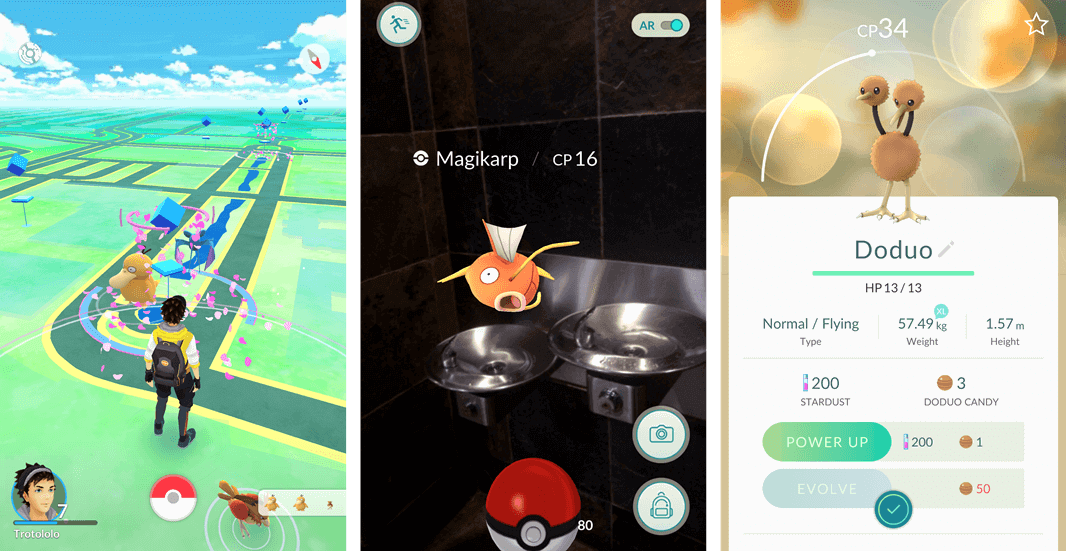 Source: Trymyui
Social-friendly user interface goes viral
Another aspect of pokemon go's UI design is its social feature that encourages online sharing. When a user works with a social-friendly interface, it maximizes chances that the user will spread the word and get more of their friends onboard. Thus, creating a formidable social network.
Ability to immerse users to write their own story
As touched upon earlier in the blog, pokemon go provides users to fully immerse into the augmented reality world of being a pokemon trainer by factoring in imaginary creatures and collectibles using real-world objects. As a result, this makes them interact more with the app–especially with the help of the narrator Professor Willow.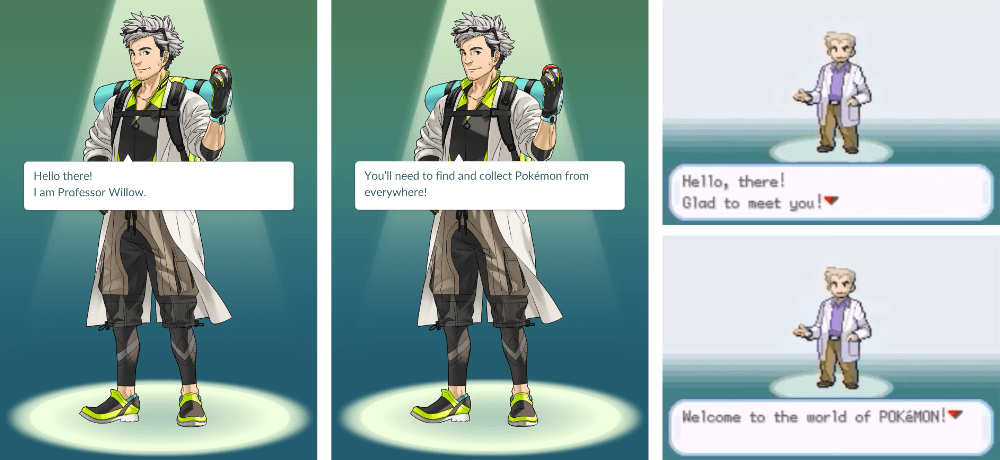 Source: Trymyui
Gamified UI boosts long-term engagement
Undoubtedly, providing a gamified experience in the app by including side quests, medals, and different levels to achieve, and the amazing battle feature engages users to keep playing and makes them stay hungry to unlock achievements and hit mini-goals.
Part 2. Pros and Cons of Pokemon Go UI/UX
Despite explaining the major pillars of why pokemon go UI boosts user engagement, it is fair to assess both pros and cons of the UI to understand both sides of the coin. This can help designers to identify solutions to improve the successful game's cons and leverage the pros of it into their own design projects.
Here are a few pros and cons of pokemon go UI and UX: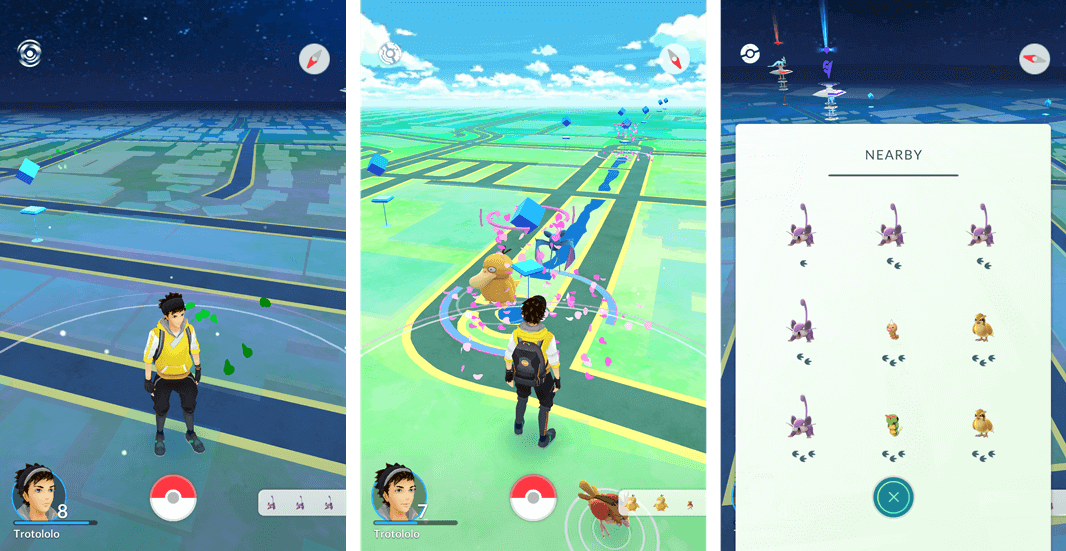 Source: Trymyui
Part 3. Design a Gamified UI with Pixso
We have explored the positives and even the negatives of pokemon go UI. Nevertheless, gamification plays a huge role in engaging users, and with appropriate design elements, you too can design a pleasurable experience for users like pokemon go does.
To design similar gamified experiences like pokemon go, Pixso can be your go-to design tool that offers advanced tools and prototyping capabilities to create an engaging user experience.
Try Pixso for Free
Why design gaming UI with Pixso?
Pixso is free to use and this is great considering you would require a lot of drafts to work with and make a complex gaming UI.
You get access to a wide range of design tools to create beautiful and pleasant UI for your apps.
It is a highly collaborative design tool, meaning you can bring your coworkers into your project and have multiple users commenting and editing the project file together.
You can prototype your UI screens and preview them instantly in the web app. This helps you to create effective user interactions in your gaming app.
You also have access to Pixso's design community — where you can get inspiration on different gaming app UI and import templates, components, etc., to assist you with your project.
Part 4. FAQs about Pokemon Go UI
A few questions on Pokemon Go UI design
Q1. Is Pokemon Go too tough to handle?
Yes. The massive problem with pokemon go is the fact that human interactions such as tapping and swiping are physically too fast for the game that it cannot keep up with the user's actions.
Q2. Does Pokemon Go need a UI update?
Yes. It's been a few years since its initial launch but many claims that it is time for Pokemon to update its UI mainly because of its outdated design and it can be confusing for new users without proper tutorials.
Q3. Which database is used in Pokemon Go?
The Pokemon Company chose Couchbase Server Enterprise Edition because of its scalability and performance.
Design Your Own Augmented Reality Gaming UI…
Pokemon go has definitely brought back a lot of nostalgia and engaged users into getting into their own adventures. However, despite talking about the well-deserved pros, there are some flaws in the pokemon go UI. There are definitely some lessons to be learned here.
In most cases, it results in outdated designs and complicated processes that designers must look to keep up with current trends and keep updating UI elements to cater to users' comfort levels.
A good place to start designing high-quality gaming app designs can be Pixso. Use this design tool today and create your own beautiful gaming app experience.
Try Pixso for Free